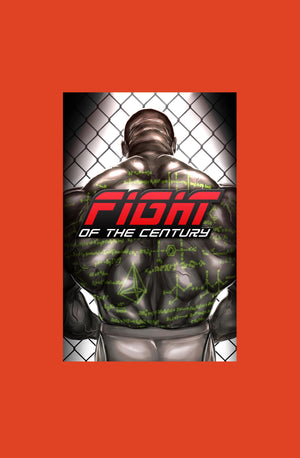 Fight of the Century #1 ("Man of Science" Cover)
New Remastered Edition! Not available in comic shops!

What you get:
Featuring a glossy stock "Man of Science" cover by Mervyn McKoy 
A physical copy with 40 pages of hard-hitting biopunk action!
More white-knuckle action featuring art by Julius Abrera (G.I. Joe vs. Cobra)
New blood-soaked colors by Jorge Cortes (Grimm Fairy Tales) 
Comes with a futuristic "ring girl" centerfold by Netho Diaz (Marvel's Predator)

Bonus interview conducted by Greg Anderson Elysée (Is'nana the Were-Spider)

Bonus material expanding the hard-hitting MMA world of F.U.E.L.

Comes in RexCo's 

7 1/2  x 10 3/4 six-sided plastic toploader for maximum protection.

Includes a free bookmark by artist SMACK!
CREED meets BAKI THE GRAPPLER meets FRANKENSTEIN in this biopunk body horror from Second Sight Publishing and RexCo!
In a futuristic Brazil, performance-enhancing drugs have revolutionized the world of MMA. Fighters are bigger, stronger, and faster than EVER! Two men - Brazil's Rex Punga and El Salvador's Diego Andrade - enter the octagon with the promise of blood-splattered glory! A drug-fueled incident during their match nearly kills Diego and sends Punga into hiding! However, in the dark corners of Neo-Rio, Brazil…a rematch is just one pill away.
FOR MATURE READERS!
100% Powered by RexCo.